Special Filter
DFPC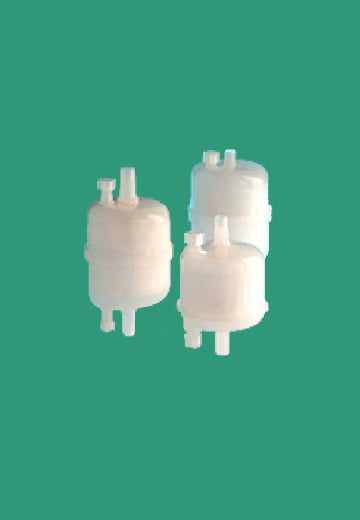 Hybrid Capsule Filter
DFPC is capsule type filter made from polypropylene.
Materials of Composition
Hardware / Polypropylene
Media / Any kinds of materials we supply
Filtration Precision
Depending on material of media
Connection and Dimensions
Outside diameter: 72mm
Length: 139mm R1/2 (PT1/2), R1/4 (PT1/4), F (Ferrule), SW (Swagelok type)
Maximum Differential Pressure
0.39MPa
Maximum Operating Temperature
60°C
Applicable Fluids
Pure water, Photoresist, etc
Model Code
DFZC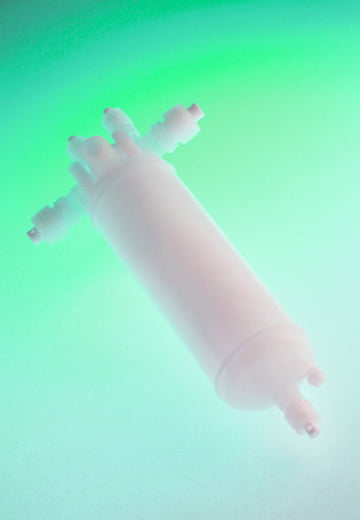 All Teflon Membrane Filter
DFZC is capsule type filter made from Teflon. It is suitable for semiconductor process lines.
Materials of Composition
Hardware / PFA Media / PTFE
Support / PTFE Center Core / PFA
Filtration Precision
(Absolute microns)
0.03, 0.05, 0.1, 0.2, 0.45, 1
Connection and Dimensions
Pillar fitting: Super type, 300 series, Flaretech, Buttweld
Length: 4, 10, 20, 30 (inch)
Maximum Differential Pressure
& Operating Temperature
0.55MPa / 24°C
0.1MPa / 180°C
Applicable Fluids
High temperature semiconducting chemicals, Chemicals, Photoresist, Concentrated acid, Ozone water, etc
Model Code
WHERE TO PLACE
Model : DFPC

Pure water, Photoresist, etc
Model : DFZC

High temperature semiconducting chemicals, Chemicals, Photoresist, Concentrated acid, Ozone water, etc