Tubular Type
Structure of tubular type level gauges is very simple and the tubular type level gauges are most wildly used. They are used at 5kgf/cm2 (5barG) and lower pressure.
Every tubular level gauge; except for TUP-7 series, is equipped with a ball check valve (emergency shut-off valve).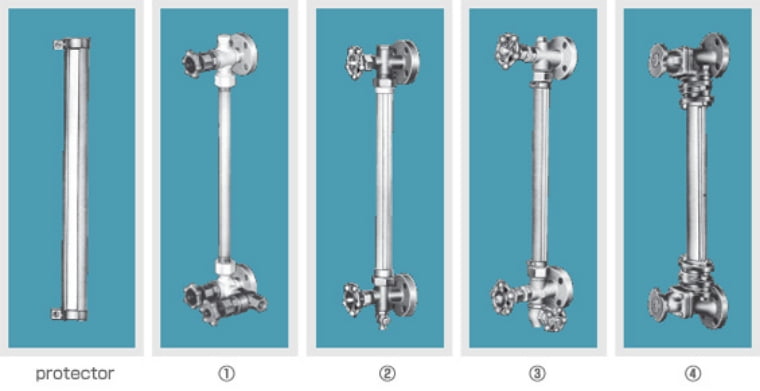 MATERIAL
TYPE
TUP-9C
TUP-5B
TUP-6F
TUP-64
TUP-66
TUP-66L
TUP-7R
TUP-7G
①
②
③
④
MATERIAL
PVC
FC
CARBON STEEL
SUS304
SUS316
SUS316L
FC/RL
natural hard rubber lining FC/GL
Glass lining
Swipe to see the table
Intermediary connector

In case center-to-center (C-C) length exceeds 2000mm, an intermediate connector shall be equipped.
In that case, V dimension shown in the dimension table will be changed.
WHERE TO PLACE
With the rapid development of petrochemical and chemical industry, demands for level gauges have increased. Also, fluids handled in these industries have varied a great deal and customers' expectations for our products have become higher.
With fifty year experiences, we are flexible with the demands of custom tailoring and have a capability to meet any requirements.
We are confident that we can keep on helping to streamline and improve the performance of your plant.