Reflex Type
Reflex type level gauges sturdily consist of a body with glass and cover tightened by U-bolts. They have a prism glass window that uses the basic optical principles of light refraction and reflection to enhance the indication of the liquid level. In brief when the light strikes the area of glass covered by the liquid is allowed to pass to the interior of the gauge, so that the area appears dark (black). While the light strikes the open space, above the liquid level is reflected back to the observer so that the area appears silver-white. It is possible to see the actual liquid level in the systems, even transparent liquids can be clearly observed. They are made from carbon steel, stainless steel, and carbon steel with rubber lined or lead lined depends upon the services.
They are suitable for various ranges of pressure lines; from low to high pressures, and made of carbon steel or stainless steel. In addition, they are lightweight structures and available for long visible lengths. What is more, Reflex types are available at low price. Reflex type level gauges are equipped with a ball check valve (emergency shut-off valve).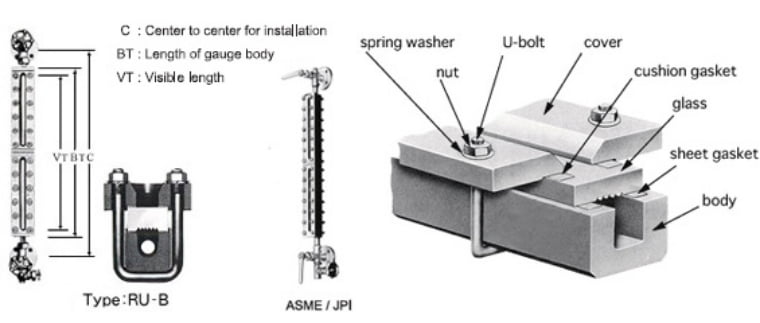 ETC
[Scale plate]

Scale plates are available. Available materials of scale plates are Acryl and SUS304. Scales can be calibrated in accordance with any customer requirements.
[Support]

One or two supports are fixed to long gauges in order to sustain the weights.
[GAUGE GLASSES]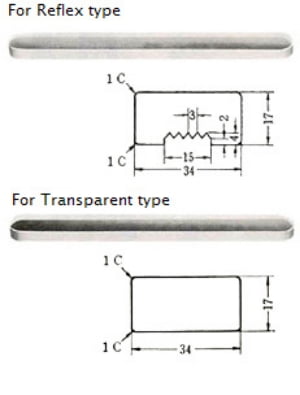 MATERIAL
REFLEX TYPE
Carbon Steel (SS400,S25C)
Lining (Glass, Rubber, Teflon Coating)
Stainless Steel (304, 304L, 316, 316L)
WHERE TO PLACE
With the rapid development of petrochemical and chemical industry, demands for level gauges have increased. Also, fluids handled in these industries have varied a great deal and customers' expectations for our products have become higher.
With fifty year experiences, we are flexible with the demands of custom tailoring and have a capability to meet any requirements.
We are confident that we can keep on helping to streamline and improve the performance of your plant.
FAQ
Q1. What kind of glasses is available?
Answer1.
Hard Tempered Glass: Max. 180°C
Pyrex Tempered Glass: Max. Temperature 280°C
Tempered Glass and Pyrex Tempered Glass are mainly applied to sight glasses.
However, all of these glasses are inapplicable for alkali fluids. For alkali fluids, Teflon lined glasses or MICA are applied.