Auto Strainers
BRUSHING AND / OR SCRAPING TYPE DNA-B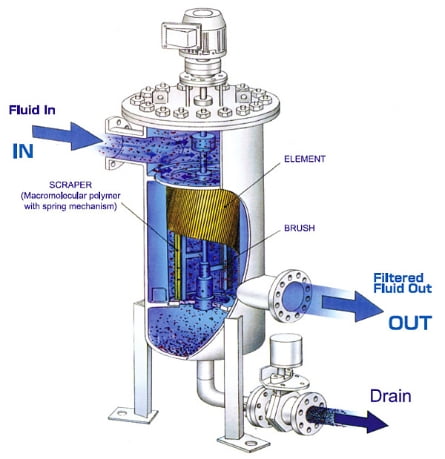 Impurities clogging the inside of the fixed -position element are removed by a brush scraper.
These impurities are collected in a sludgepot and discharged through drain (N3)
【BRUSH SCRAPER】
【DRIVE】
【PIPING】
【SLASH SCREEN】
BLOWOFF BACK WASH, SCRAPING AND BRUSHING TYPE DNA-W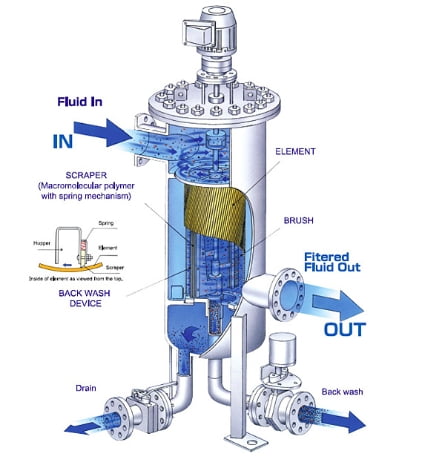 Impurities clogging the inside of the fixed -position element are removed by a brush scraper.
These impurities are then sucked up by a hopper and send through the discharge pipe (N3) to the sludge pot for collection and later discharge through the discharge valve.
【BRUSH SCRAPER】
【DRIVE】
【PIPING】
【SLASH SCREEN】
Control System
Auto cleaning system is functioned by differential pressure switch operation and cleaning timer setting operation.
Drive System
Manual handle driving
Electric motor driving
Air motor driving
MATERIAL
Body

Carbon Steel / SUS304 / SUS316 / SUS316L / Rubber Lining / Lining (Teflon PE PVC Flake) Galvanized, Almanized
Element

SUS304 / SUS304 / SUS316 / SUS316L / SUS316L / SUS304 / SUS316 / SUS316L / Hastelloy Monel / ALLOY20
WHERE TO PLACE
Electrical Power Plants and Steel Plants: Sea water and industrial water lines
Refinery Plants: Process lines
Petrochemical Plants: Process lines
FAQ
Q1. What are features of Auto Cleaning Strainer?
Answer1.
Maintenance Free Operation


The element is cleaned and foreign particles are discharged automatically.

Continuous Operation


There is no need to stop line flow.

Simple Structure




Compact Size


Its design is space-saving. Also, it is easily replace a manual strainer with Auto Cleaning Strainer.

Superior Cost Performance


With intermittent filtration system, it cut down operating cost.
Strainers / Auto Strainers
Strainer with cleaning function