Transparent Type
PRODUCTS
Transparent Type
A transparent type level gauge consists of body with glass and cover securely tightened by stud bolts. It is hermetically sealed.
Transparent type level gauges are suitable for observing liquid level through the transparent glasses. Regardless of fluid colors it can be used perfectly.
For high temperature use, MICA is placed to wetted surfaces in order not only to protect the glass but to have anti-corrosion and heat-resistant effects.
Also, a lighting device is available to check fluid layers even more clearly. Transparent type level gauges are equipped with a ball check valve (emergency shut-off valve).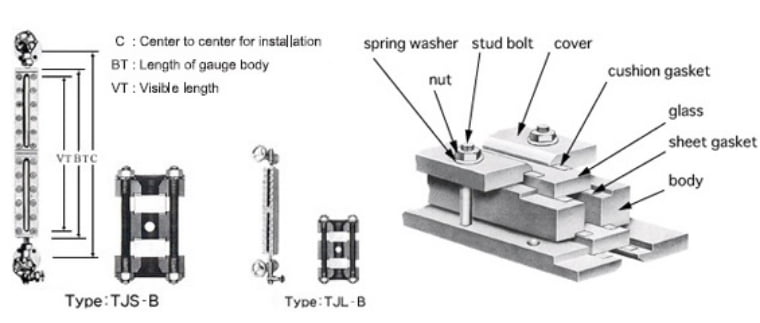 MATERIAL
TRANSPARENT TYPE
Carbon Steel (SS400,S25C)
Lining (Glass, Rubber, Teflon Coating)
Stainless Steel (304, 304L, 316, 316L)
WHERE TO PLACE
With the rapid development of petrochemical and chemical industry, demands for level gauges have increased. Also, fluids handled in these industries have varied a great deal and customers' expectations for our products have become higher.
With fifty year experiences, we are flexible with the demands of custom tailoring and have a capability to meet any requirements.
We are confident that we can keep on helping to streamline and improve the performance of your plant.
FAQ
Q1. What kind of glasses is available?
Answer1.
Hard Tempered Glass: Max. 180°C
Pyrex Tempered Glass: Max. Temperature 280°C
Tempered Glass and Pyrex Tempered Glass are mainly applied to sight glasses.
However, all of these glasses are inapplicable for alkali fluids. For alkali fluids, Teflon lined glasses or MICA are applied.